I'm proud to announce I've finally gotten my first ever donation from one of the readers of my blog.
To me, this means I've reached one of the major goals of starting this blog: I want to help people change their lives.
See my guest post here if you don't believe me:
…This is my goal in life right now: I want to change people's life for the better. I want to teach people what took me years to learn, and I want to help them succeed.
Goal reached!
I started this blog with one major goal in mind, and that is to help educate people so they can escape the unhealthy miserable life they're stuck in. I was once there too and it's complete hell to go through.
While I might poke fun at fat-logic or various other unhealthy behaviors, I was once there myself. Not everyone can do their own research, it's up to people like me to wade through the s****y info and find the best path through the muck.
It's not about the money.
I'm not doing this for the money. I know all too well that chasing money will only drive you crazy and will cause you to make some really bad decisions. Money is only the tool I use to keep all this going.
I'm not looking to retire from this blog (as nice as that would be), I'm mostly just trying to stay above water. I haven't made much from the blog yet, but I'm slowly working on that aspect. Server costs and all this other stuff I've built into the site aren't cheap.
However, thanks to you readers, I'm trying to stay positive and remember that it's not about how much I spend, but how many people I help.
I'm lazy, but people need to know this stuff.
I often find myself in a sort of funk in which I get depressed or excessively lazy and feel unable to work on the blog. During those days I can't help but sit around watching dumb Youtube videos or wasting time on Reddit. I hate it, but it's mostly out of my control.
However, when I have natural motivation to do something, I always remember that there's people out there who are needlessly suffering from things that a simple dietary change might be able to cure. Obesity, diabetes, laziness, whatever. You've got a problem, I might have a cure.
This stuff isn't easy to learn, and it's not easy to practice daily. That's why I want to keep you on the right track.
It's not impossible. I did it and I want you to turn your life around like I did.
I want to make life worth living.
Thank you to all my readers.
And a personal thank you to all my Facebook fans who have liked and shared my silly and serious stuff over the years. I know I've helped you guys out as well, even if it's just helping you stay on track with a funny picture or informative website.
What can I do to help?
Help me out by sharing my posts with friends and family, sharing to Reddit and other related sites, following and retweeting, etc. There's simple buttons at the top and bottom of each post to make it even easier!
Basically the biggest thing you can do to help me: Tell other people!
Tell your family you used the Keto diet, ate bacon, and lost weight. (ignore the weird stares)
Tell your friends that you eat like a caveman or that you skip breakfast and still lose weight.
Tell your co-workers that breakfast is pointless when you train your body to burn fat naturally.
When they ask for more info, tell them about AngryNutrition.com.
That's all I ask.
Spread the word, that'll help me and others find the answers they're looking for.
Leave a comment below if my work has helped you out.
Also if you'd like to donate too, click here.
Also, check out my favorite brands/products on this page.
Otherwise, I'll be releasing my first ever eBook soon. Sign up for my newsletter to be the first to know when it comes out! (plus get a FREE ebook!)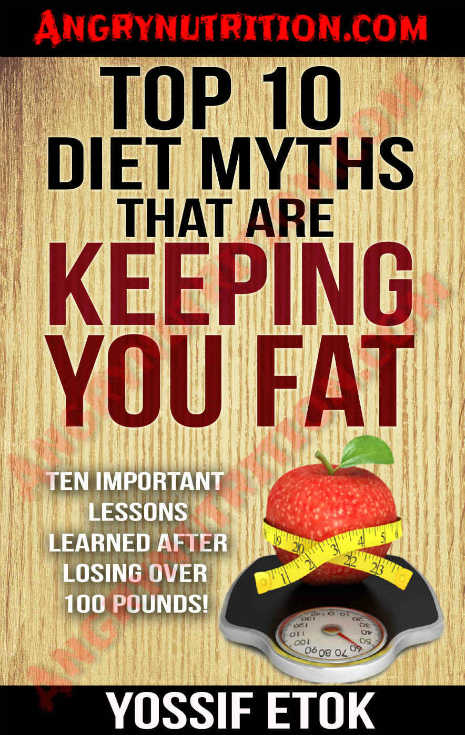 Thanks for reading!!
Your friend,
-Yossif

An extra special thank you to Robert. Your donation will help for another year of keeping the blog going. I'm glad my work has helped you. Thanks!