It bears repeating over and over: You're less than 10% human cells. The rest of your body is 90% microbes. You are a giant supra-organism, an ecosystem. You have to understand this if you want easy weight loss with yogurt and kefir.
The human body carries about 100 trillion microorganisms in its intestines, a number ten times greater than the total number of human cells in the body.
People tend to forget this. People would die without these symbiotic little guys protecting us. They keep us alive and healthy. Just remember that next time you're sterilizing everything out of fear of germs. The immune system is a muscle, and it will waste away if it doesn't get exercise.
Another important thing to always keep in mind: you're not "eating" your food. Your gut bacteria are. They are the force that ultimately breaks down your food. They're the gatekeepers to your body's composition.
Fat vs. thin people: What is the major difference?
It's all about what you have swimming around in your gut, believe it or not.
"Genetically" fat people essentially have different strains of gut bacteria compared to thin people! They've done tests on rats with different levels of obesity to discover this simple fact. They found that the community of bacteria within the fat mice had a greater capacity to harvest energy from the diet than the lean microbes. They also had a higher tendency to encourage adipose tissue formation than the lean mice.
In other words, the fat mice had bacteria that could get MORE calories out of the food and would store fat much easier than the thin mice. To prove this point, they bred mice with completely sterile guts (no previous gut flora). They injected the obese mice's flora into the sterile mouse's gut. Lo and behold, within a mere 2 weeks, the mice got much fatter.
The gut flora determine the EFFICIENCY of how well you harvest your calories from your diet.
Bad bacteria = more calories!
In theory, Fat guy A can get 100 calories from a piece of bread, whereas thin guy B can only extract 75 calories from that same piece of bread. GOT IT?
Remember that the caloric load of all foods, the numbers you see on the side of a box or can, are all determined in a laboratory by a carefully calibrated machine.  It is literally burning up the food and measuring the energy given off by said it. The human body is much more complicated than this!
When that food enters your gut, it is ultimately burned, but in a completely different fashion involving bacteria and broken up slowly via fermentation. The energy extracted from your mouth to your butt is not the same as being burnt in a machine!
It has been calculated that a MERE 12 CALORIES per day can make the ultimate difference between staying a certain weight and gaining a whole pound of fat in roughly a year's time. It's all about how your food is processed. So, how do we get easy weight loss with yogurt and kefir? Change the strains of bacteria in your gut.
How do I change my bacteria??
Simple: Eat yogurt or drink kefir. You can also easily make your own sauerkraut or brew your own kombucha. You need to introduce high quality strains of good bacteria into your gut. This is easily done using simple methods to make your own fermented food at home. I personally love a glass of kefir almost daily. It won't change overnight, but the sooner you start, the better!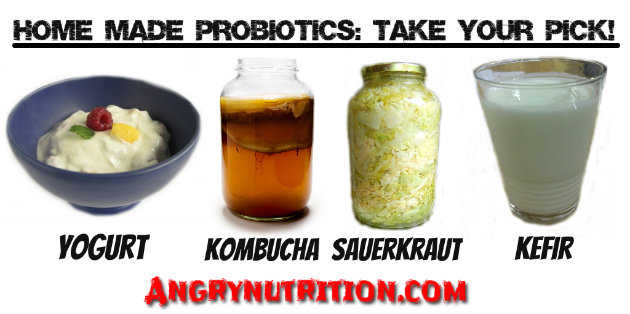 Oh, and NO, store-bought yogurt and kefir is also not the same damn thing. I'm not sure about elsewhere in the world, but here in America, our government mandates that all food producers sterilize the schyt out of food before it can be made available to consumers. So this store-bought yogurt and kefir MAY be created using microbial fermentation, but then they PASTEURIZE IT.That means they heat it up and KILL ALL the beneficial bacteria. And don't be fooled by the crap on the bottle saying it's a probiotic. They merely added a bit of secondary bacteria to the batch after it had been pasteurized, and it's usually only a couple relatively small strains. It's NOT the same thing!
Oh, and not to mention, they also DUMP a ton of sugar into most commercially produced yogurts and kefir drinks (as well as all kinds of additives and artificial flavors). You don't need that extra sugar and junk when you're trying to drop weight. If you really want to drop some extra weight, go for a low carb diet. That means avoiding sugar!!Guess what? Those "bad bacteria" I mentioned? They LOVE sugar. LOVE IT! That's usually how they grow so easily in obese people, because most of their diet is quickly and easily digested carbohydrates! If you remove sugars from your diet, you will literally STARVE those bad bacteria!!Commercially mass-produced yogurt and kefir is an ABOMINATION! It's mostly dead and the added sugar is completely unnecessary. Fux these A$$holes for ruining something so beautiful.
Probiotic pills are a waste of money!
I'll go into more details on a future post, but for now I want to warn you that probiotic pills are a complete waste of money. The simple secret to easy weight loss with yogurt and kefir: MAKE IT AT HOME FOR CHEAP!Probiotic pills don't work as well as yogurt/kefir/sauerkraut/kombucha for these reasons:
Bacteria are mostly dehydrated or dormant, sometimes flat-out DEAD.

You're lucky if a small fraction of those beneficial bacteria are going to be revived and contribute to your health.

A pill can only cover a tiny area of your gut. You need to COAT it to be effective.

Pills are expensive, buying a bottle for a monthly supply adds up quick. 

The numbers on the pill bottle are meaningless for most people. (See below)
It's a numbers game. You want as many beneficial strains of good bacteria in as big a number as you can get. Let's take something like "Now Foods Probiotic 25 Billion – 50 caps" for 20$. In theory, that whole bottle will have about 1 trillion total bacteria (if you're lucky). Guess how many beneficial bacteria are ACTIVELY swimming around in a 500 mL glass of kefir?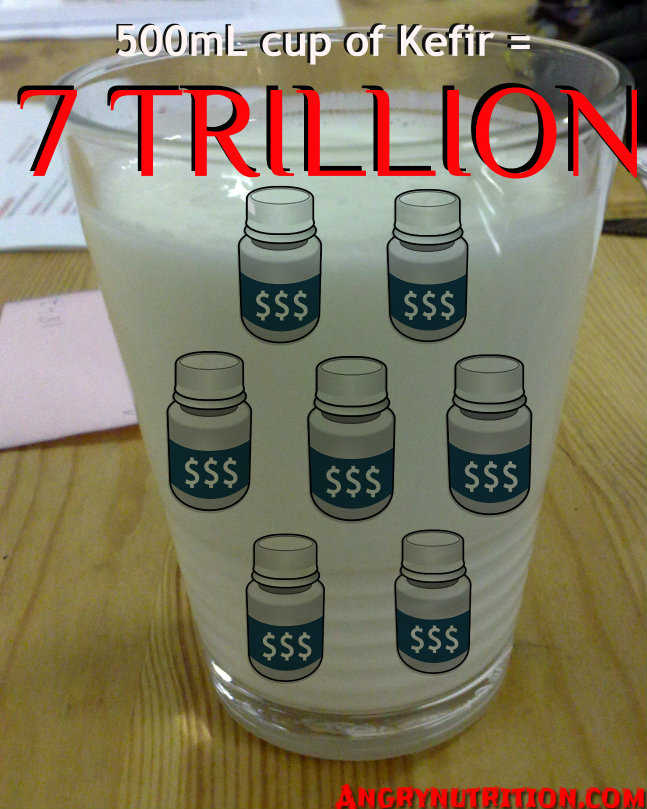 In one simple glass, you can have the equivalent of 7 whole bottles of probiotic pills. That's 1,000x the population of the EARTH! These little Microspartans, as I call them, are lean mean fighting machines that are working for you. They help keep you thin and they protect you from diseases. They will KILL off the bad bacteria and they are crucial to easy weight loss with yogurt and kefir.
If you combine these delicious probiotic-dense foods with a caveman mindset and/or a low carbohydrate way of eating, you're going to see some tremendous results. That's what I did and I lost over 100 pounds! (Plus my immune system is top-notch, so I never ever get sick!)
Easy weight loss with yogurt and kefir?
It's easier than you think. Every week or two, I go out and buy some high quality organic milk to "feed" my kefir, then I let it grow and multiply. I drink it almost every day and it keeps me thin.
It can be a pain to arrange making your own fermented foods at times, but I will soon have more posts and videos on how to make it as easy as possible. Don't waste your money on store-bought crap, do it yourself and your body will thank you.
What do you think? Do you currently eat any probiotics? How do they make you feel?
Comment below!
Your friend,
-Yossif
Pic credits:
https://commons.wikimedia.org/wiki/File:Sauerkraut_Jar.jpg
https://en.wikipedia.org/wiki/File:Fatmouse.jpg
https://upload.wikimedia.org/wikipedia/commons/c/cf/Kefir_glass_london_feb_10.jpg
https://upload.wikimedia.org/wikipedia/commons/thumb/4/48/Kombucha_Mature.jpg/405px-Kombucha_Mature.jpg
https://upload.wikimedia.org/wikipedia/commons/7/77/Obstjoghurt01.jpg
https://farm1.staticflickr.com/71/159830128_571dd5fb74_o.jpg
http://pixabay.com/static/uploads/photo/2013/07/12/14/50/bottle-148883_640.png