Contest is over, thanks to everyone who participated!
Sign up for my newsletter to find out when new giveaway contests are ready!
Subscribe via to Angry Nutrition's free email updates. (It comes with a FREE eBook too!)


Good news everyone! I'm proud to announce my first ever Angry Nutrition free giveaway contest! I've been searching for a way to give something back to all my awesome readers and this is a great opportunity for you to win a huge grand prize!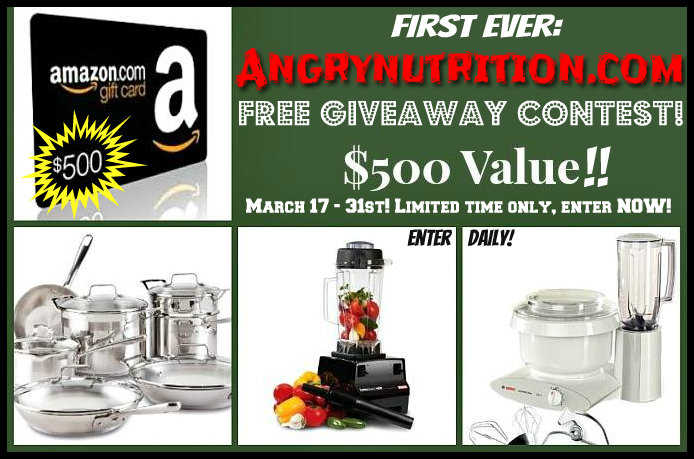 I've teamed up with a bunch of other awesome bloggers to do this free giveaway contest, so it's a really big one! Best part is, the winner gets to choose the prize: I have not one….or two….or even three…but FOUR awesome prizes for one lucky winner to choose from!
Interested? Here's the cool prizes:
 1. All-Clad Stainless Steel 10-Piece Cookware Set!
This set comes complete with two frying pans, two saucepans, a saute pan and a stockpot! All-Clad offers a safe cookware option as their steel is anodized, so as long as the cookware remains chip-free, no metals will leach into your food. I'm a cast iron man, but my secondary favorite is this option. I'll go into more details of cast iron eventually, but for most people this is a good set for healthy cooking.
This set is valued at $499.95!
 2. Vitamix CIA Professional Series!
If you've been living under a rock for about 10 years, hopefully you know about these. The Vitamix is not just a blender and it's not just for smoothies. It's an all-in-one-kitchen-necessity! Calling a Vitamix a blender is like calling a Harley a tricycle. Not quite the same. It's a powerhouse of a machine!The Vitamix is a super durable machine that you can make everything from soups and sauces to nut-butters and breads in.
The Vitamix CIA Professional Series is valued at $498.95!
3. Bosch Universal Plus Mixer with Blender Combo
This mixer with 4 speed settings includes the wire whips, dough hook, bowl, splash ring and blender! This is a must-have for the person who loves to make culinary treats. (DJFoodie-ists, I'm looking at you!) I know quite a few people who do and they say they would put this mixer up against a standard KitchenAid any day! For those who don't need the powerhouse of a Vitamix, this is a great alternative blender as well.
This Bosch Mixer is valued at $469.98!
 4. Cold Hard Cash! (Amazon Giftcard for $500)
OK, let's say you're like me and kinda bad at cooking. I prefer things that are super simple and natural, so I don't need a lot of fancy kitchen do-dads. For me, this is what I would probably pick, because I use Amazon all the time! I can't think of anyone who couldn't benefit from a little (virtual) dough, so if you don't like any of the options above, pick this option. Get whatever you want! Amazon has everything!
This free giveaway contest begins March 17th, 2014 at 12 am EST and runs through March 31st, 2014 at 12 am EST!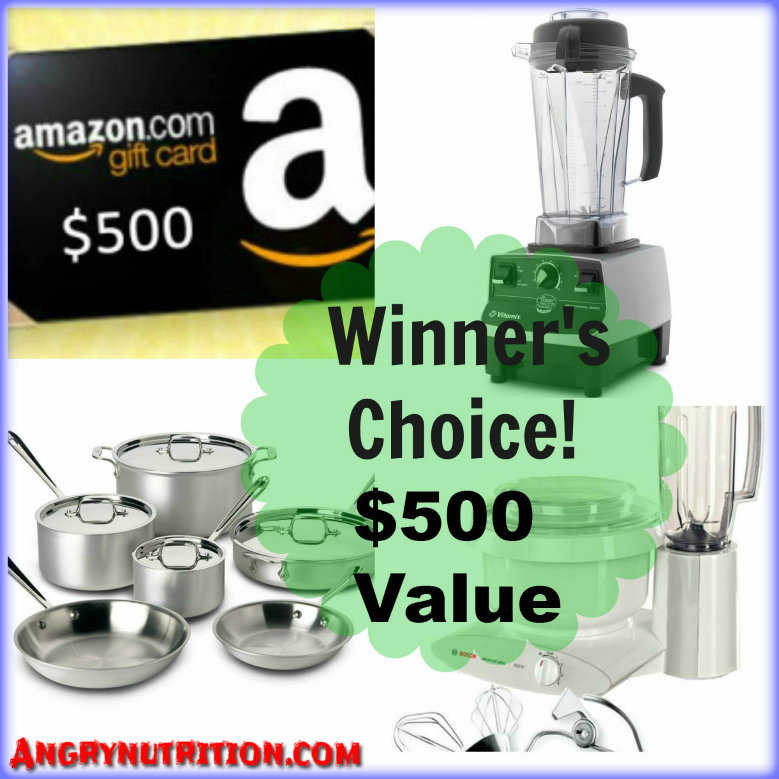 SO HOW DO YOU ENTER?
It's simple. Follow the instructions below!
1. Subscribe via to Angry Nutrition's free email updates. (It comes with a FREE eBook too!)

This is the best way to find out when my next big giveaways are live and ready to be entered!
2. Add me to your favorite social media sites:
Facebook:
Google+:

Twitter:
Follow @Angry_Nutrition

I post daily tidbits for fun and motivation. I will announce upcoming giveaways there as well.
3. Leave a comment on this post telling me which prize you would pick!
4. Use the widget below to Enter in this awesome GIVEAWAY!
Also please visit my other fellow bloggers for more giveaways in the future: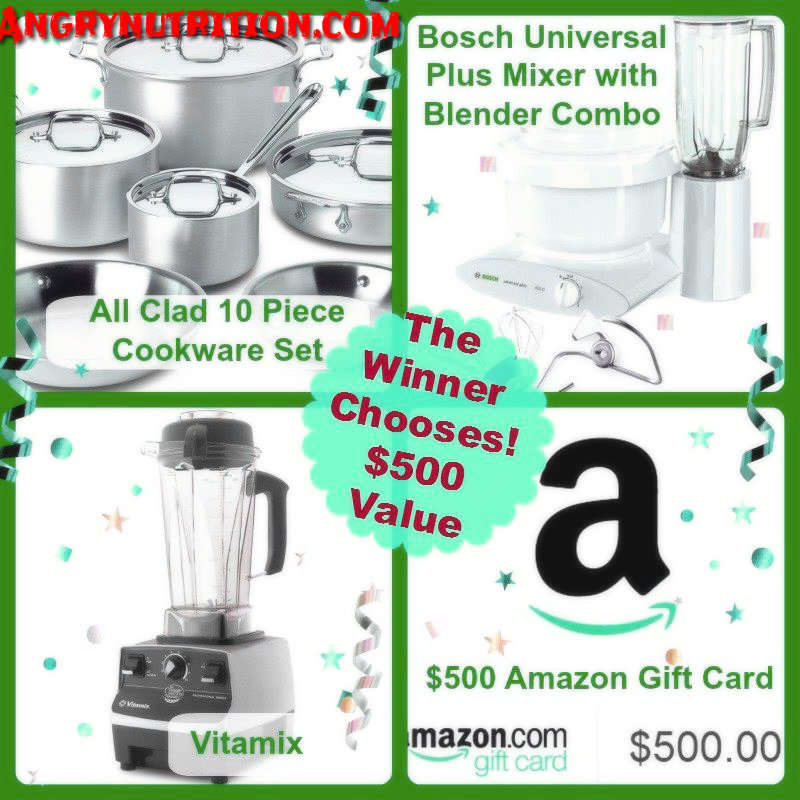 The Fine Print: No purchase necessary. You must be 18 to enter. The giveaway will begin at 12 am EST on March 17th, 2014 and end 12 am EST on March 31st, 2014 . The winner will have 48 hours to contact
Yossif
 with his/her full name, address, and phone number. By entering you are agreeing that Angry Nutrition will be held harmless if in some way this giveaway/ sweepstakes somehow negatively impacts the winner. Should the winner be from outside the U.S, the prize will automatically default to the $500 gift card. Void where prohibited by law. Powered by TCPDF (www.tcpdf.org)
Good luck! Remember to check back every day and enter multiple times to get as many chances to win as possible!
Be sure to sign up for more free giveaway contests in the future!
Your friend,
Yossif